A paint crew has arrived to start a very much needed project today. For the past couple of years our house's exterior has been looking very shabby indeed, with faded and peeling paint. Our once pretty blue house was looking kind of grayish pink. It had faded so much that the original pink color was starting to show through. Yes, pink! Not very appealing. We should have had the house painted last year but were a little slow getting anyone lined up and it was a short season due to a late start to spring and an early fall.
So when our paint crew's foreman stopped by last night with this pile of ladders and equipment I had to control myself from doing a few cartwheels on the lawn. And that would have been a miracle because I have been cartwheel challenged my whole life. I never did master that technique as a child. Or pull-ups on the monkey bars. Or jumping off the high board. Well, anyway, I digress.
When I saw this colorful array of ladders I was immediately reminded of the Italian flag and got hungry for pizza!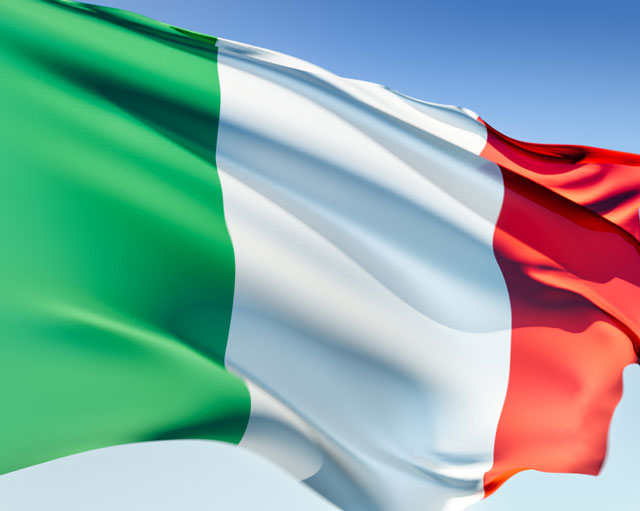 Choosing a paint color is an agonizing ordeal that I hope I don't have to repeat again too soon. Our painter only uses Sherwin Williams paint, and as luck would have it there isn't a Sherwin Williams store within 25 miles. I tried using some online tools to upload a photo of our house and do some virtual painting. The process is fairly easy but I don't think it's very accurate. After narrowing down some choices we brought home eight colors to sample. At $7 a pop that isn't cheap, but it's a whole lot cheaper than finding out we made a big mistake after the fact.
Our house has been the same grayish blue in all the years we've owned it. In fact, when we bought the house it was in the process of being painted to cover that awful aforementioned pink, and we liked the color the owner had chosen. Of course that was in 1982 at the height of the country decorating trend...dusty blue, dusty pink, etc. So although I still like it it had gotten to feel very outdated and it was time for a change. After painting our test swatches on the garage, which we are planning to paint ourselves later, we had whittled it down to three choices. What a sight, eh? Roses and a patchwork of blues.
We thought we still had time to make a decision and then the contractor showed up on Friday to announce they would be here to start work today, Monday! Panic! The color we ultimately chose is called Grays Harbor (SW6236) and in real life it reads less navy and more gray than in these pictures, at least to my eyes. It changes with the light as is often the case and these photos were taken on a cloudy evening. It's the swatch on the far left. I really like the contrast of the darker color with the white trim. The other colors were still way too blue for me. We had a few others we tried that were more in the green/gray spectrum, but were obviously not right once we tried them, which is why it's so important to do that test swatch.

Our house is not nearly so grand, but I'm hoping it will look something like this lovely home when done. I absolutely love the contrast of light and dark and am so hoping that I will like it as much on our house. Our trim is plain white instead of creamy and we won't have a pretty painted front door, unfortunately. We only have a full window storm door that enters onto the porch. We could paint it, it's white right now, but it probably wouldn't have much of an impact. We do have a red Swedish mailbox for a some accent color and in summer I always have potted flowers next to the front steps.
Traditional Exterior
by
Seattle Home Stagers
Andrea Braund Home Staging & Design
One little sidenote. Wisconsin has very stringent rules about lead safety in regards to renovation. Since our house still has traces of the old pre-1978 paint the siding did test positive for lead. Therefore all the paint scrapings have to be collected for proper disposal. Pressure washing was not allowed. And our property, at least the three sides that are accessible from the street and next door neighbors, is surrounded with lead hazard tape to keep anyone from walking through while the crew is working. It looks a bit like a crime scene, but better safe than sorry.
A likely casualty, unfortunately, are my pretty Stella d'oro daylilies and spiderwort which started to bloom in the last few days, right next to the house. I'm sure they'll be crushed by tarps and ladders. So sad, but worth the sacrifice. They're hardy and will be back next year. At least I have this crummy phone photo.


I'll be back in a week or so to post before and after pictures. Until then I'll do what I can to tune out the nerve jarring sound of metal scrapers on siding and the country music twanging on the crew's radio in the background.